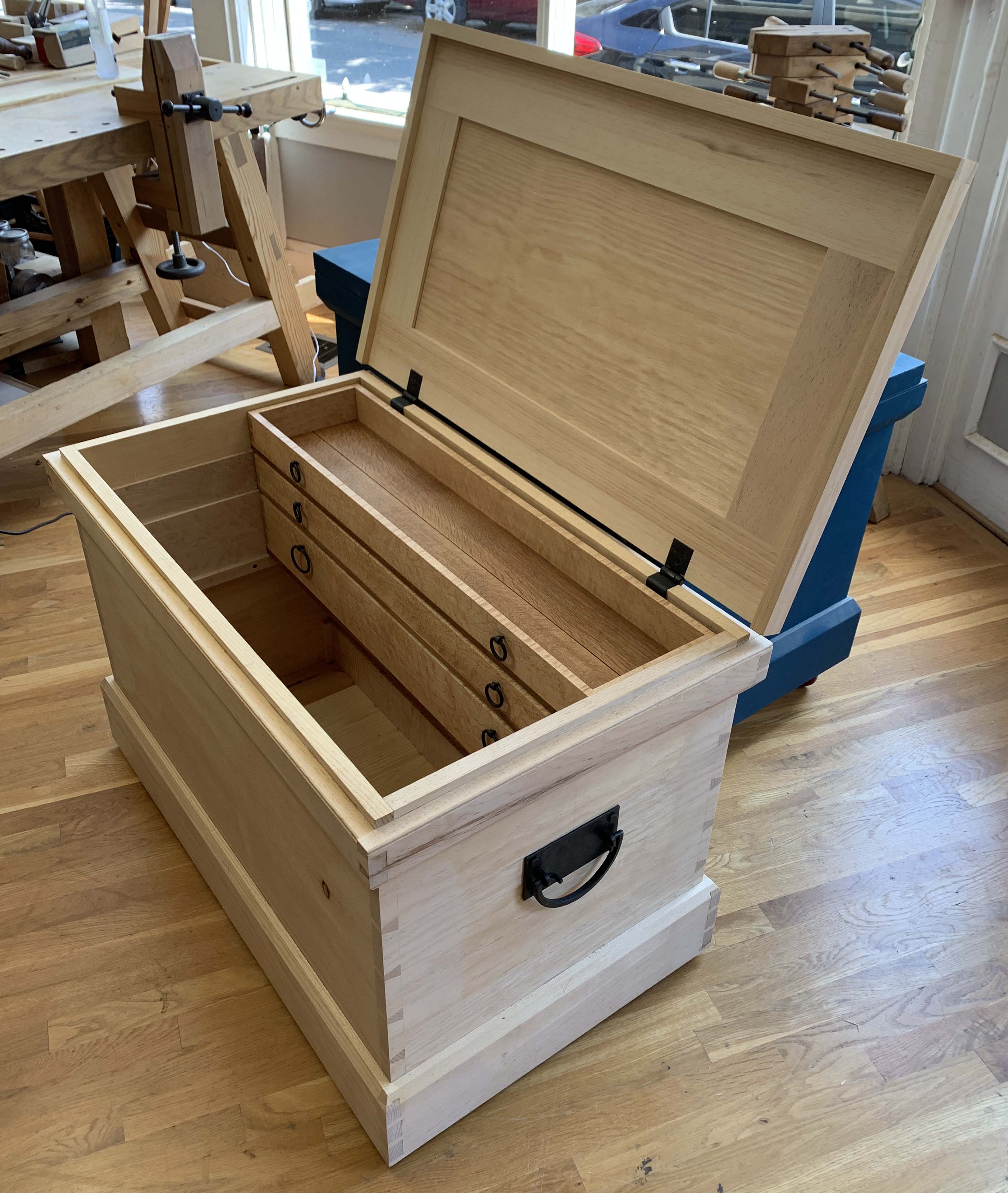 Update: this one has sold. (But if you're interested in one, I do commission work.)
For sale: With my extra time during the lockdown, I was able to complete this hand dovetailed sugar pine Anarchist's Tool Chest. Its exterior dimensions are: 39-3/4″ wide x 23-1/2″ deep x 24-1/4″ high (including the battens – aka rot strips – on the bottom). It has hand dovetailed bird's-eye maple tills with quartersawn white oak shiplapped bottoms affixed with cut nails. All three tills are 8-1/2″ from front to back. The top two tills are 2-3/4″ high with 1/2″-thick bottoms; the bottom till is 5″ high with a 5/8″-thick bottom. The top till is 36″ wide, the middle till is 35-1/2″ wide, the bottom till is 35-1/4″ wide.
The remainder of the interior fittings – the slides for the tills, the tool rack and the moulding plane corral – are of figured hard maple.
The tool rack is slightly different than what is shown in the "Anarchist's Tool Chest" book; I bump it out from the front chest wall to allow for the hanging backsaws behind the chisels, screwdrivers and other tools in the tool rack. (I find this not only protects them, but makes the saws easier to grab than from a bottom-mounted saw till.)
The chest bottom is tongue-and-groove pine boards affixed with forged Rivierre nails. The hand-forged hardware is the new "Anarchist's Tool Chest Re-forged kit" from Horton Brasses.
The chest is $4,200 as is (including your General Finishes milk paint color of choice); that also includes crating (LTL shipping is paid by the buyer; it's typically less than $250). Add-ons (real milk paint, an iron crab lock, casters (either new or re-conditioned vintage), custom interior fittings, etc.) are available as well. First one to respond with a definitive "yes" gets it. (My signature below is linked to my email.)
If you'd like to see more (including entirely too much on dovetail how-to) and outfitting the interior, check out my Instagram feed.